Français
La première année à Pech Blanc, 2019, toute notre attention s'est portée sur la construction de la piscine et l'aménagement de la grande grange en salon et salle à manger. Nous avons également construit le parking. L'année suivante, un entretien a été nécessaire sur tous les volets extérieurs, les portes et les cadres. Ensuite, nous avons porté un regard critique sur la disposition des pièces. Nous avons remplacé des meubles, remis à neuf et acheté de grands tapis. Il devait aussi y avoir quelque chose sur les murs. Nous avons remarqué que beaucoup de Néerlandais connaissent bien la France, mais que peu de Français ont visité les Pays-Bas. Nous avons donc opté pour la promotion éhontée de la Hollande. Dans chaque chambre un tableau d'un vrai maître hollandais. Les voici:
Nederlands
Het eerste jaar ging al onze aandacht uit naar de aanleg van het zwembad en de inrichting van de grote overkapping als lounge en diner plek. We hebben toen ook de parkeerplaats aangelegd. Het jaar daarop was er onderhoud nodig aan alle buitenluiken, deuren en kozijnen. Daarna zijn we eens kritisch gaan kijken naar de inrichting van de kamers. We hebben meubels vervangen, opgeknapt en grote kleden gekocht. Er moest ook iets aan de muren. Het was ons opgevallen dat veel Nederlanders Frankrijk goed kennen, maar dat er niet zoveel Fransen zijn die Nederland bezocht hebben. Dus we hebben gekozen voor schaamteloze Holland promotie. In elke kamer een schilderij van een echte Hollandse Meester. Dit zijn ze:
English
In the first year in Pech Blanc, 2019, all our attention was focused on the construction of the swimming pool and the layout of the large barn as a lounge and dining area. We also built the parking lot. The following year maintenance was required on all exterior shutters, doors and frames. Then we took a critical look at the layout of the rooms. We have replaced furniture, refurbished and bought large rugs. There had to be something on the walls, too. We noticed that many Dutch people know France well, but that not many French people have visited the Netherlands. So we opted for shameless Holland promotion. In every room a painting by a real Dutch Master. Here they are:
Español
En el primer año en Pech Blanc, 2019, toda nuestra atención se centró en la construcción de la piscina y el diseño del gran granero como sala de estar y comedor. También construimos el estacionamiento. Al año siguiente se requirió mantenimiento en todas las persianas, puertas y marcos exteriores. Luego echamos un vistazo crítico a la distribución de las habitaciones. Hemos cambiado muebles, reformado y comprado grandes alfombras. También tenía que haber algo en las paredes. Nos dimos cuenta de que muchos holandeses conocen bien Francia, pero que no muchos franceses han visitado los Países Bajos. Así que optamos por la desvergonzada promoción de Holanda. En cada habitación, una pintura de un verdadero maestro holandés. Aquí están: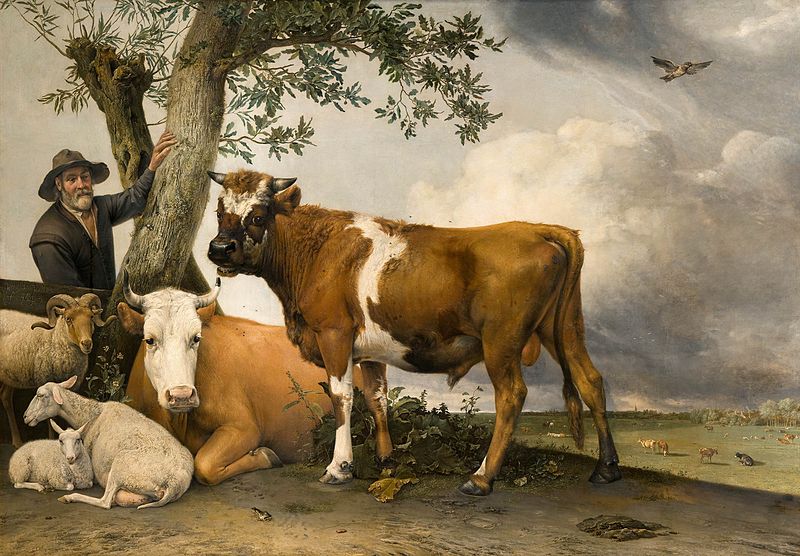 Français
Le Taureau
Peinture de Paulus Potter, 1647
dans les chambres Truffe et Melon
Le Taureau est une peinture du peintre hollandais Paulus Potter. Le tableau mesure 2,35 × 3,39 mètres. Il a été peint en 1647, alors que Potter avait environ 21 ans. Le tableau se trouve au Mauritshuis à La Haye. Ce qui rend The Bull si spécial, c'est le fait que Potter a représenté quelque chose d'aussi ordinaire qu'un taureau dans un si grand format – c'était sans précédent. Et que – malgré sa taille – il accordait beaucoup d'attention aux moindres détails, comme l'alouette dans le ciel, la lumière du soleil sur le pré, les mouches autour du dos du taureau et les moustaches de la vache. Ce tableau est devenu la figure de proue de la peinture naturaliste hollandaise.
Nederlands
De Stier
Schilderij van Paulus Potter, 1647
in kamer Truffe en Melon
De stier is een schilderij van de Nederlandse kunstschilder Paulus Potter. Het schilderij meet 2,35 × 3,39 meter. Het is geschilderd in 1647, toen Potter ongeveer 21 jaar was. Het schilderij bevindt zich in het Mauritshuis in Den Haag. Wat De stier zo bijzonder maakt, is het feit dat Potter op dit grote formaat zoiets gewoons als een stier weergaf – dat was ongekend. En dat hij – ondanks dat formaat – veel aandacht besteedde aan de kleinste details, zoals de leeuwerik in de lucht, het zonlicht op de wei, de vliegen rond de stierenrug en de snorharen van de koe. Daarmee werd dit schilderij het boegbeeld van de Hollandse naturalistische schilderkunst.
English
The Bull
Painting by Paulus Potter, 1647
in the rooms Truffe and Melon
The bull is a painting by the Dutch painter Paulus Potter. The painting measures 2.35 × 3.39 meters. It was painted in 1647, when Potter was about 21 years old. The painting is in the Mauritshuis in The Hague. What makes The Bull so special is the fact that Potter depicted something as ordinary as a bull in such a large format – that was unprecedented. And that – despite its size – he paid a lot of attention to the smallest details, such as the lark in the sky, the sunlight on the meadow, the flies around the bull's back and the whiskers of the cow. This painting became the figurehead of Dutch naturalistic painting.
Español
El Toro
Pintura de Paulus Potter, 1647
en las habitaciones Truffe y Melon
El toro es una pintura del pintor holandés Paulus Potter. El cuadro mide 2,35 × 3,39 metros. Fue pintado en 1647, cuando Potter tenía unos 21 años. El cuadro se encuentra en el Mauritshuis de La Haya. Lo que hace que El toro sea tan especial es el hecho de que Potter representara algo tan común como un toro en un formato tan grande, algo sin precedentes. Y que -a pesar de su tamaño- prestó mucha atención a los detalles más pequeños, como la alondra en el cielo, la luz del sol en el prado, las moscas en el lomo del toro y los bigotes de la vaca. Esta pintura se convirtió en la figura decorativa de la pintura naturalista holandesa.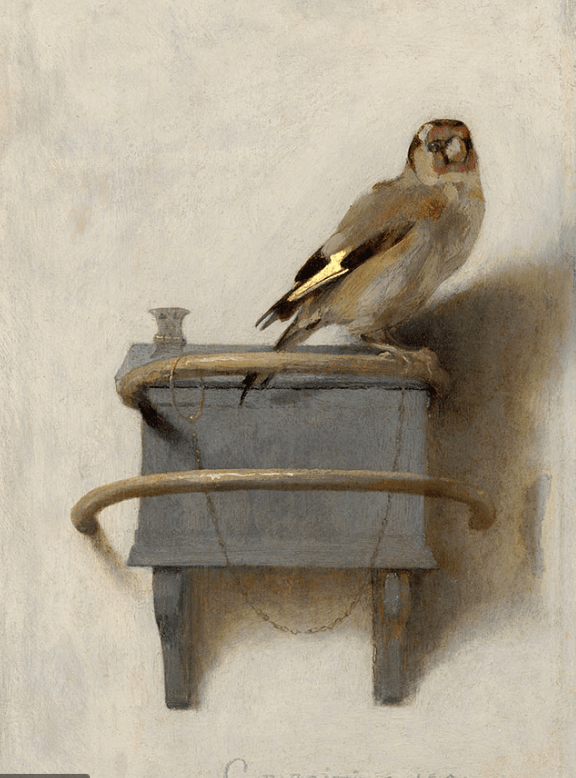 Français
Le Chardonneret
Peinture de Carel Fabritius, 1654
dans la chambre Chêne
Le chardonneret est un tableau du peintre néerlandais Carel Fabritius de 1654. Il fait partie de la collection du Mauritshuis à La Haye depuis 1896. Un chardonneret est assis, une chaîne à la patte, sur sa mangeoire. Les chardonnerets étaient populaires comme animaux de compagnie parce que vous pouviez leur apprendre à puiser de l'eau dans un bol à l'aide d'un seau miniature. C'est l'une des rares œuvres de Fabritius connues. Il a peint le chardonneret avec des coups de pinceau bien visibles. Il marqua l'aile avec une épaisse peinture jaune, qu'il gratta avec le dos de son pinceau.
Carel Fabritius est généralement considéré comme l'élève le plus talentueux de Rembrandt, pour lequel Vincent van Gogh, entre autres, a exprimé son admiration. Fabritius a peint des peintures d'histoire, des portraits, des natures mortes et des paysages urbains. Son intérêt pour la lumière, la perspective et le trompe-l'œil fait de lui l'un des fondateurs de l'école dite de Delft, dont Johannes Vermeer est le représentant le plus connu.
Sa carrière de peintre prend fin brusquement en 1654, lorsqu'il meurt lors de l'explosion de la fabrique de poudre à canon de Delft. Il est probable qu'une partie de son œuvre ait été perdue dans ce désastre. A notre connaissance, une quinzaine de tableaux et une dizaine de dessins ont été conservés.
Nederlands
Het Puttertje
Schilderij van Carel Fabritius, 1654
in kamer Chêne
Het puttertje is een schilderij van de Nederlandse schilder Carel Fabritius uit 1654. Het behoort sinds 1896 tot de collectie van het Mauritshuis in Den Haag. Een distelvink zit, met een ketting aan zijn pootje, op zijn voederbakje. Distelvinken waren populair als huisdier, omdat je ze kon leren zelf met een miniatuuremmertje water uit een bakje putten. Vandaar dat ze puttertjes worden genoemd.
Dit is een van de weinige werken van Fabritius, die bekend zijn. Hij schilderde het puttertje met duidelijk zichtbare penseelstreken. De vleugel gaf hij aan met dikke gele verf, waar hij met de achterkant van zijn penseel een kras in zette. Carel Fabritius wordt algemeen beschouwd als Rembrandts meest getalenteerde leerling, voor wie onder anderen Vincent van Gogh zijn bewondering uitsprak. Fabritius schilderde historiestukken, portretten, stillevens en stadsgezichten. Door zijn belangstelling voor lichtval, perspectief en trompe-l'oeil was hij een van de grondleggers van de zogenoemde Delftse school waarvan Johannes Vermeer de bekendste vertegenwoordiger is.
Aan zijn schildercarrière kwam in 1654 abrupt een einde, toen hij omkwam tijdens de ontploffing van het Delftse kruitmagazijn. Waarschijnlijk is een deel van zijn werk door deze ramp verloren gegaan. Voor zover bekend zijn er zo'n vijftien schilderijen en een twaalftal tekeningen bewaard gebleven.
English
The Goldfinch
Painting by Carel Fabritius, 1654
in room Chêne
The goldfinch is a painting by the Dutch painter Carel Fabritius from 1654. It has been part of the collection of the Mauritshuis in The Hague since 1896. A goldfinch sits, with a chain on its leg, on its feeder. Goldfinches were popular as pets because you could teach them to draw water from a bowl using a miniature bucket. This is one of the few works by Fabritius that are known. He painted the goldfinch with clearly visible brushstrokes. He marked the wing with thick yellow paint, which he scratched with the back of his brush.
Carel Fabritius is generally regarded as Rembrandt's most talented pupil, for whom Vincent van Gogh, among others, expressed his admiration. Fabritius painted history paintings, portraits, still lifes and cityscapes. His interest in light, perspective and trompe-l'oeil made him one of the founders of the so-called Delft school, of which Johannes Vermeer is the best-known representative.
His painting career came to an abrupt end in 1654, when he died during the explosion of the gunpowder factory in Delft. It is probable that part of his work was lost in this disaster. As far as is known, about fifteen paintings and a dozen drawings have been preserved.
Español
El Jilguero
Pintura de Carel Fabritius, 1654
en la habitación Chêne
El jilguero es una pintura del pintor holandés Carel Fabritius de 1654. Forma parte de la colección del Mauritshuis de La Haya desde 1896. Un jilguero se sienta, con una cadena en la pata, sobre su comedero. Los jilgueros eran populares como mascotas porque podías enseñarles a sacar agua de un recipiente con un balde en miniatura. Esta es una de las pocas obras de Fabritius que se conocen. Pintó el jilguero con pinceladas claramente visibles. Marcó el ala con pintura amarilla espesa, que rascó con el dorso de su pincel.
Carel Fabritius es generalmente considerado como el alumno más talentoso de Rembrandt, por quien Vincent van Gogh, entre otros, expresó su admiración. Fabritius pintó cuadros de historia, retratos, naturalezas muertas y paisajes urbanos. Su interés por la luz, la perspectiva y el trampantojo le convirtieron en uno de los fundadores de la llamada escuela de Delft, de la que Johannes Vermeer es el representante más conocido.
Su carrera como pintor tuvo un final abrupto en 1654, cuando murió durante la explosión de la fábrica de pólvora en Delft. Es probable que parte de su obra se perdiera en este desastre. Hasta donde se sabe, se conservan unas quince pinturas y una docena de dibujos.
Français
Nature Morte aux Fleurs
Peinture de Hans Bollongier, 1639
dans la chambre Noix
Nature morte aux fleurs est un tableau de Hans Bollongier conservé au Rijksmuseum d'Amsterdam. Il a vécu et travaillé à Haarlem. Il était l'un des rares peintres de natures mortes de fleurs dans cette ville. Cependant, certaines pièces de genre sont également connues de lui. Il avait un style très personnel, qui se caractérise par un fort contraste entre le clair et l'obscur
Nederlands
Stilleven met bloemen
Schilderij van Hans Bollongier, 1639
in kamer Noix
Stilleven met bloemen is een schilderij van Hans Bollongier in het Rijksmuseum in Amsterdam. Hij woonde en werkte in Haarlem. Hij was een van de weinige schilders van bloemstillevens in die stad. Van hem zijn echter ook enkele genrestukken bekend. Hij had een zeer persoonlijke stijl, die onder meer gekenmerkt wordt door een sterke licht-donker tegenstelling
English
Still Life with Flowers
Painting by Hans Bollongier, 1639
in room Noix
Still Life with Flowers is a painting by Hans Bollongier in the Rijksmuseum in Amsterdam. He lived and worked in Haarlem. He was one of the few painters of flower still lifes in that city. However, some genre pieces are also known by him. He had a very personal style, which is characterized by a strong contrast between light and dark
Español
Bodegón con flores
Pintura de Hans Bollongier, 1639
en la habitación Noix
Bodegón con flores es una pintura de Hans Bollongier conservada en el Rijksmuseum de Ámsterdam. Vivió y trabajó en Haarlem. Fue uno de los pocos pintores de bodegones de flores en esta ciudad. Sin embargo, también le son conocidas algunas obras de teatro de género. Tenía un estilo muy personal, que se caracteriza por un fuerte contraste entre la luz y la oscuridad.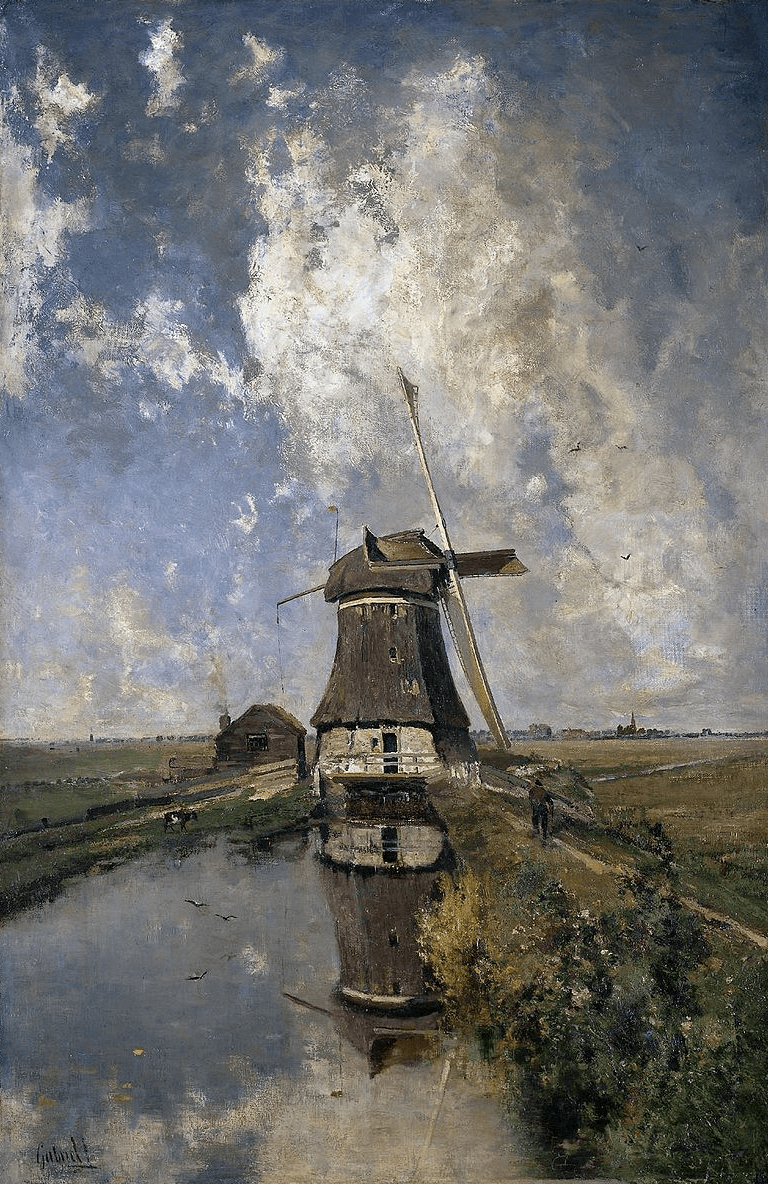 Français
Un Moulin sur un Canal de Polder, dit "Au mois de juillet"
Peinture de Constant Gabriel, 1889
dans la chambre Safran
Il a été peint vers 1889, huile sur toile, mesure 102 x 66 centimètres. Exposée au Rijksmuseum d'Amsterdam.
"Notre pays est gras et coloré. Je le répète, notre pays n'est pas gris, même par temps gris, les dunes ne sont pas grises non plus", écrit Constant Gabriel dans une lettre. Contrairement à de nombreux peintres de l'école de La Haye, il aimait peindre une belle journée d'été. Dans ce tableau il y a sont même deux : l'herbe, le ciel et le moulin se reflètent dans l'eau.
Nederlands
Een Molen aan een Poldervaart, bekend als 'In de maand juli'
Schilderij van Constant Gabriël, 1889
in de kamer Safran
Het is geschilderd in circa 1889, olieverf op linnen, 102 x 66 centimeter groot. Te zien in het Rijksmuseum in Amsterdam.
'Ons land is gekleurd-sappig-vet. Ik herhaal het, ons land is niet grijs, zelfs niet bij grijs weer, de duinen zijn ook niet grijs', schreef Constant Gabriël in een brief. In tegenstelling tot veel schilders van de Haagse School schilderde hij graag een mooie zomerdag. Op dit schilderij staan er zelfs twee: het gras, de lucht en de molen worden weerspiegeld in het water.
English
A Mill on a Polder Canal, known as 'In the month of July'
Painting of Constant Gabriel, 1889
in room Safran
It was painted in circa 1889, oil on canvas, measures 102 x 66 centimeters. On display at the Rijksmuseum in Amsterdam.
"Our country is colored-juicy-fat. I repeat, our country is not gray, even in gray weather, the dunes are not gray either," wrote Constant Gabriel in a letter. Unlike many painters of the Hague School, he liked to paint a beautiful summer day. In this painting there are even two: the grass, the sky and the mill are reflected in the water.
Español
Un Molino en un Canal de Pólder, conocido como "En el mes de julio"
Pintura de Constant Gabriel, 1889
en la habitación Safran
Fue pintado hacia 1889, óleo sobre lienzo, mide 102 x 66 centímetros. Expuesto en el Rijksmuseum de Ámsterdam.
"Nuestro país es audaz y colorido. Repito, nuestro país no es gris, incluso en clima gris, las dunas tampoco son grises", escribió Constant Gabriel en una carta. A diferencia de muchos pintores de la Escuela de La Haya, disfrutaba pintando un hermoso día de verano. En este cuadro hay incluso dos: la hierba, el cielo y el molino se reflejan en el agua.